Old News
The Unbroken Circle presents Martyn Bates
(October 22nd 2005)
The Unbroken Circle is a quite brilliant site promoting so called 'Wyrd Folk' musics and has created a web page dedicated to presenting Martyn Bates and his many collaborative projects. (No longer, Summer 2008.)
This is a very sympathetic and well done presentation of Martyn Bates and they also offer many songs and pieces in streaming audio, so it is very well worth to get over there and have a look! There are also many other interesting bands featured at the site!
Reviews of both Dance of Hours and The Devil In the Grain by Mark Weddle for Brainwashed.com
(January 3rd 2004)
You can find two reviews by Mark Weddle at Brainwashed.com – one of Dance of Hours and one of the Twelve Thousand Days album The Devil in the Grain. There are also additional mp3-clips from the albums.
ALL World Serpent Distribution albums by Eyeless In Gaza and Martyn Bates have been repressed and are now all available again
(February 10th 2003)
World Serpent Distribution has repressed all the albums they released by Eyeless In Gaza and Martyn Bates. By Martyn Bates: Mystery Seas (Letters Written #2) and Imagination Feels Like Poison with lyric book; and by Eyeless In Gaza: Streets I Ran; Bitter Apples; All Under the Leaves-The Leaves of Life.
Lyric books out-of-print at the publisher Stride Books
(February 10th 2003)
Stride Books that published both Martyn Bates' and the Eyeless In Gaza lyrics books tell us that they are now out-of-print. (The William Burroughs My Kind of Angel book is still possible to get though (Martyn Bates made a contribution to this tribute book to William Burroughs).)
Martyn Bates & Anne Clark
(Updated December 29th 2002)

Martyn Bates and Anne Clark: Just After Sunset – The Poetry of Rainer M. Rilke was originally released on May 17th, 1998 on Indigo/Labor and has now been re-released on netMusicZone Records (ZOMBA) on the 4th of November 2002 with two added live video-pieces taken from a live performance in 1997 at the Strange Noise Festival.
The new songlisting is the same and the added songs at the end are Shell Song (live video)/Echoes Remain Forever (live video).
An absolutely wonderful album of quiet songs and poetry. Anne's voice is complemented by Martyn' in a very successful way throughout the album. It sounds fresh, soft, benevolent, serene and is augmented by the well-arranged accompaniments by the contributing artists, such as Pete's melodica on my favourite track 'Song of the Sea' and wonderful cello and violin contributions. Martyn actually also plays piano himself on a couple of tracks! A wonderful quality of the sound also! Highly recommended! (There were apparently 7,000 copies pre-ordered by distributors.)
The Personnel: Anne Clark, Martyn Bates, Andy Nice (cello), Chris Elliott (piano) and Volker Frich (violin/viola).
The Tracks: Silent Forces/Autumn/From the Book of Pilgrimage/Song of the Sea/To Music/Going Blind/The Garden of Olives/Time and Again/The Panther/From the Book of Monastic Life #1/The Fruit/Early Spring/The Apple Orchard/From the Book of Monastic Life #2/Autumn Day/Departure of the Prodigal Son/Sehnsucht.
Martyn's notes for the album (which was incorporated into the album's sleeve notes):
"Written January through February 1997, this music was conceived specifically with collaboration between Anne and myself in mind. Six months previously Anne had suggested to me that working with Rilke's texts would prove both challenging and apposite … a consequent re-reading led me wholeheartedly to the same conclusion.

Compellingly, I found myself drawn to the insightful yet somehow distanced eloquence of Rilke's Nature Poetry (or, to be a little more precise, the poems that use images drawn from Nature as their central metaphor); I set myself to the task of reflecting via music a glimpse of the mysticism and sense of wonder to be found within the texts, ever mindful of also capturing that air of the fatalistic overtly evident in certain poems.

Over the following months, Anne and I let our initial selections of text percolate … along the way making many hard choices, rejections, alterations … adding further texts … and all the while honing our feelings about just how exactly to convey the complexity and beauty of Rilke's imagery and intent. Ultimately, the answer to which we continually returned was simply … "intuit" … just to trust explicitly and completely in the instinctive sum of our own individual life experiences.

Working closely together with Peter Becker, we formulated an essential shape to the project, a shape fully realised in February 1998, working together and recording with Friedrich Thein alongside musicians and friends Chris Elliott, Andy Nice and Volker Frich.

So, this then, is purely a personal and intuitive take on various disparate aspects of Rainer Maria Rilke's body of work … in many senses merely two friends appreciating the beauty of it all … ."
Martyn Bates also wrote to me about this project [to give you more of an idea of what to expect]:
"… we've all (Anne C, myself and Pete) been doing lots of work of late on this … I've written tons of stuff it seems; working getting the right blend is so important/difficult/exacting for this project … instrumentation has been expanded to include additional (sparse) violin/cello/ … also I've incorporated several solo piano pieces … this project is very much an "atmosphere" type project … ."
Here are two interviews with Anne Clark regarding the album (both articles in German): Orkus interview by Bettina Glas and an article in Zillo. Anne Clark says something about the album on the Indigo web site (in German) (– make a search for the album there). (If anyone wants to translate any of the texts above, I would like to hear from you!)
For you who are interested in Anne Clark, visit her website: Anne Clark Homepage.
Another nice review of the Murder Ballads box
(January 1st 2003)
Gil Gershman has reviewed a couple of Eyeless In Gaza and Martyn Bates albums for the US magazine Muze – here is a review of The Murder Ballads box.
Hand/Eye compilation Cd
(January 7th 2003)
The Hand/Eye double compilation Cd has been released by Dark Holler. It features a very nice piece by Martyn Bates in the style of his albums Chamber Music and the ones by 12,000 Days (see below). The song is number one on disc two and is called 'Seven Yellow Gypsies' and is around seven minutes long. The two Cds also offer a lot of other nice music in vein of neo-folk/dark-folk music. It was mentioned favourably in a recent issue of The Wire.
Plague of Years – the selected Eyeless In Gaza lyrics book
(January 4th 2003)
Plague of Years (on Stride books) – the Eyeless In Gaza selected lyrics book is now possible to order (December 2000)! The manuscript is now ready, but the release has been delayed somewhat. The book will have the same format/size as the Martyn Bates selected lyrics book released in 1997.
Martyn wrote a little poem (or literary notes maybe) around the time of the release of the book for a magazine that you can read here now.
Send £10 (incl. post and packing) to A-Scale, P.O. Box 3, Nuneaton, Warwickshire, CV10 9YT, England/UK.
Two new interviews with Martyn Bates
(August 7th 2002)
Interview with Martyn Bates from Les Inrockuptibles magazine (number 14, 1988) newly added. It has been translated into French and back again by different people, so some of the original intentions and meanings may have been somewhat distorted. And Amadeo Spahi has graciously let me publish the interview he did last year with Martyn in his magazine Ostia.

The second Twelve Thousand Days album The Devil in the Grain is out now!
(August 22nd 2001)
I was just thinking of how to give praise to this album, but found that it is hard to appear sincere given what I actually think of it, thus far. I had very, very high hopes about this album and they were nearly fully met. Thus, a very, very good album (which is an understatement … ). I suppose you are more interested in how it sounds – well, it sounds a bit like their first album and like what I said about that album, this sounds just like one could expect a collaboration between Orchis and Martyn Bates would do. The sound here is more coherent, more integrated and the album flows much better. It is slightly "softer", sounding both serene and fresh at the same time. It is not specified what instruments they make use of, but it is a lot of sources for sure. It is not overly complex – the complexity (if any) would lie in the emotional colourings. It is not so long – 40 minutes (back to the old Lp album length format) and there are 10 songs: Song of the Prophet/Beauty is Fading/All in the May/Darkness Rising/Dream of You/Whitestone Day/Glistening Praise/The Devil in the Grain/The Hand of Glory/Plea. It is released by Iceflower (a division of Trisol Music, Germany) – do not know of them, but nice work on the packaging and all. If you enjoy the more reflective songs by Eyeless in Gaza and Martyn Bates, I think you should find this album very well worth getting. It is as if you do not listen TO the music, but WITH it or through it … .
As for getting it, you could by ordering it from Ambivalent Scale:
A-Scale
P.O. Box 3
Nuneaton
Warwickshire, CV10 9YT
England/UK
10 pounds + 1(UK)/2(Europe/US/Canada)/3(Rest) for postage & packing. PLEASE MAKE CHEQUES AVAILABLE TO 'MARTYN BATES' ONLY. THANK YOU! (Cheques ONLY for UK residents (this is so from now on, since the fees to cash foreign cheques are so high). Cash on your own risk otherwise.)
I also hope the album will be possible to buy in some shops and it will probably soon be available from some web shops (it is available from Amazon.de for example).
You can also read some more about 12,000 Days on Ruben De Somer's web site for Orchis at studwww.rug.ac.be./~rdesomer/Orchis_mundi.html
Ostia magazine article & Cd track contribution
(March 27th 2001)
Martyn Bates has contributed a track to a Cd accompanying the Ostia magazines first issue – 'The Mountain Tomb' from Imagination Feels Like Poison. An interview with Martyn is published. The Cd also features, among others, Andrew King, That Summer, Tor Lundvall, Skald. Ostia is out now. Ostia, c/o Amadeo, 27, Chemin des Aulnes, 69570 Dardilly, France. E-mail: Amadeo Spahi
Martyn Bates live at Terrastock IV in November 2000
(Updated September 12th 2000)
Martyn Bates performed live at the Terrastock festival in Seattle, USA. "The fourth Terrastock festival of arts and music takes place this year over the weekend of November 3rd - 5th, 2000. The venue chosen is the historic Showbox, located in downtown Seattle, Washington, USA." (Web site: www.terrascope.org/t4.html)

The Twelve Thousand Days album In The Garden of Wild Stars
(Updated May 31st 2000)
Martyn Bates has recorded an album with Alan Trench (of Orchis) entitled In The Garden of Wild Stars. In The Garden of Wild Stars, released by Musica Maxima Magnetica, was released on May 15th.
Here follows the press release from the company:
Twelve Thousand Days
(Martyn Bates & Alan Trench)
In The Garden of Wild Stars
[Format: Cd, Catalogue number: eee 37; Release date: May 15th 2000; upc code number: 8020417103721; file under: Dark Folk.]

Twelve Thousand Days is the name of the new project from Martyn Bates (Eyeless in Gaza) and Alan Trench (Orchis).

As well as his solo projects and those of own band Eyeless in Gaza, Martyn Bates is known for his work with people as diverse as Anne Clark and Mick Harris (Scorn), while Alan Trench is mainly known for his work with the English dark folk band, Orchis.

With their debut album, In The Garden of Wild Stars, Twelve Thousand Days have come up with an entirely new and original sound; full of echoes from everything that has gone before, yet miraculously mirroring the future yet to so be. Although the instrumentation is essentially acoustic-guitars, there is underlying the whole an ominous undertone of twisted discordance that can be extremely unsettling, offset by the falling leaves of Martyn's shimmering vocals.

Although the source materials and influences are as diverse as you would expect – as well as original material, there are new looks at traditional songs and setting of both the Irish mystical poet Yeats and the English romantic Tennyson, the whole album has a focus and a direction encapsulating the intense melancholy brought on by the striving for the Unseen. Although impossible to categorise, the album comes closest to Dark Folk, but with a sparkling brilliance all of its own.

Musica Maxima Magnetica: P.O. Box 2280, 50100 Firenze, Italy.
Phone: +39-0571 559000, Fax: +39-0571 559000
E-mail: mmm@penteres.it.

Distributed in USA by Soleilmoon (info@soleilmoon.com) & Dutch East India Trading.
Finally, the beautiful and intriguing album by Martyn Bates and Alan Trench is here! If you enjoy Martyn's later solo works, I suppose you will like this as well. It sounds like what one could possibly expect if one mixed Orchis and Martyn Bates different sorts of music. It is rather chilly, heavily melancholic, bitter and very beautiful. It is very moody and has complex atmospheres. It is not so easy to get into, but it is very rewarding to listen to several times. It sounds very "serious" but is sometimes rather light and positive (and therefore very untypical for the "dark folk" category some would like to place it in, in my thought). In my opinion the best work Martyn has ever done apart from his work with Eyeless In Gaza and his solo works. [Jerry's (ed.) comments]
As well as writing and playing in Orchis, Alan Trench also contributed to the Nurse With Wound classic of dislocation Thunder Perfect Mind (and also appeared on Who Can I Turn to Stereo); the collaboration with Martyn should certainly produce some intriguing results.
The album tracks: Let the Evening In/Children of the Winter House/'Locksley Hall' (setting of part of Tennyson's poem)/The Moon is Down/The Garden of Wild Stars/Stricken Fields/The Yearling/Dun Fox/Jennet #1/Jennet #2/12,000 Days/The Song of the Wandering Aengus (a setting of a poem by Yeats)/Burning Incense/Sally Free and Easy/the traditional 'The Grey Cock'/Let the Evening In (reprise).
You can also read some more about Twelve Thousand Days on Ruben De Somer's web site for Orchis – 12,000 Days
(I said previously that: maybe some of these compositions are part of their 2nd album: Dark Bells/Heart of Winter/The Knights of December/(a setting of Fleances Song from Polanski's 'Macbeth')/Among the Trees/Willow Weep (from the film 'The Innocents')/The Mountain Tomb (a setting of a poem by Yeats). – Not much traces of these songs on The Devil in the Grain :-).)
Hal/Black State Choir/Yokozuna working with Martyn Bates
(January 24th 2000)
Hal/Black State Choir/Yokozuna (to cite but a few of their aliases): Martyn Bates has been co-writing/vocalising with this Warrington based collective. Recordings begin in a fortnight, on return from Berlin [the Murder Ballads gig]. Hal, you may recall from a Virgin released single with Gillian Anderson of X-Files fame. Martyn says that "this is quite the most "commercial" sounding music that I've been involved with for a while … it'll be interesting to see how it all evolves … ."

Murder Ballads Cds with M.J. Harris & live gig & new projects
(Updated February 27th 2000)
Berlin Concert: the Murder Ballads. This will be a unique proposition, featuring songs from the recordings (and unrecorded songs) set to different music and atmosphere … each Murder Ballads Concert is totally unique from its predecessor and features new contextualisations for each concert – this is the concept for the Murder Ballads Concerts. The concert was successful. Maybe there will be more Murder Ballads concerts during this year – I will let you know if, where and when that will happen!
Mick Harris will shortly begin work on a brand new Scorn album, and Martyn Bates has been asked to contribute vocals/lyrics to a piece.
Martyn Bates and Mick Harris now also have plans on a new instrumental work. More on this later on!
Mick Harris and Martyn Bates were doing the premier live performance of the Murder Ballads music at Evreux, France in October: Les 2eme Observatoires Fear Drop, October 9th 1999, Evreux - France (100 km from Paris), with: Mick Harris & Martyn Bates, Techno Animal, Sonar, Origami Republika, Fragile.
This festival was organised by Feardrop magazine. (Feardrop magazine has recently also released an issue with an interview with Martyn Bates and included an accompanying Cd with two previously unreleased Eyeless In Gaza tracks. This was out in the summer.)
Invisible Records (US) has recently released the Murder Ballads trilogy by Mick and Martyn in a box format. The Murder Ballads (The Complete Collection) (3 Cds) release date was November 17th, 1998. The Wire published a review of the box in their 'Avant-Rock' section. Another review, written by Norene Cashen, appears in the Metro Times in Detroit. Yet another was published by Outsight – an online magazine (gone now (2005)).
Murder Ballads (Incest Songs) was the last part of the trilogy and was released on June 26th, 1998. Read about the album (incl. short comments by Mick and Martyn in this press release from MMM)! You can also read two reviews of the album in Wire and Last Sigh. This album was previously released by Musica Maxima Magnetica in Italy (mmm@penteres.it). If you're only going to buy one of these Murder Ballads albums, this is absolutely the one to go for! Very nice work with layered vocals etc. and everything works in perfect harmony this time! Contrary to the other albums in the trilogy, this is one I listen to a lot. [JN] The songs are: The Bonny Hind/Sheath and Knife/The Two Brothers/Edward. It is Martyn's favourite in the trilogy! Also read the earlier interview with Martyn and Mick (see at the end of this item)!

Martyn Bates here comes with the sequel to Murder Ballads (Drift) with M.J. Harris (ex-Napalm Death, Lull/Scorn/Painkiller-member). It is a second volume of comparable material to the first album, employing a similar aesthetic, this time resulting in a richer, more lyrical mixture. Murder Ballads (Drift) was listed amongst the 'Best Albums of 1995' in Wire magazine. Murder Ballads (Passages) on Musica Maxima Magnetica (MMM) was released in January 1997. The four pieces on the album are: The Bramble Briar/The Cruel Mother/The Banks of Fordie/The Murder of Maria Marten.
(July 18th 1997) Here is an interview with Mick and Martyn. The interview was done in the Spring of 1997 and published in the July/August issue of the Italian magazine Rockerilla by Aldo Chimenti.
Ptolemaic Terrascope magazine article + Cd compilation
(Updated September 28th 1999)
The Ptolemaic Terrascope magazine issue #27 is out now. Martyn Bates has done a quite good article/interview about Eyeless for them. The accompanying Cd also features a song from Martyn Bates's Imagination Feels Like Poison album – 'This Wayward Love'. The Cd also features, among others, Windy and Carl, Nikki Sudden, Barbara Manning. For further information on how to obtain the magazine, contact: Phil McMullen, Editor, The Ptolemaic Terrascope, 37 Sandridge Road, Melksham, Wiltshire SN12 7BQ, England, Tel: +44 (0)1225 706134.
Martyn Bates played live in San Francisco, June 15th 1999
(Updated August 15th 1999)
Martyn Bates gave a solo concert at the Make-Out Room in San Francisco, USA on June 15th, 1999. It was a really good show according to the people I have heard from that were lucky enough to be there!

Imagination Feels Like Poison Cd re-release
(Updated January 4th 1999)
Imagination Feels Like Poison is now available again in a new "full issue" edition, since the first pressing (with the lyric book) has now been sold out (except for a few spare copies at WSD, se below). "The first full issue of Imagination Feels Like Poison comes complete with new artwork: an 8-page booklet of lyrics, notes, commentary and images." This is one of the most wonderful albums that I know of and is absolutely an album I would recommend to anyone. If you didn't get the original release (or couldn't afford it), now is your chance to get hold of this gem! See below for the announcements of the original release of this album. It is available from: A-Scale, P.O. Box 3, Nuneaton, Warwickshire, CV10 9YT, UK (England). £10.00 plus £1.00-3.00 postage/packing (depending on where you live – see A-Scale for full explanation of shipping charges). Cheques should be made out to 'Martyn Bates'. This edition of Imagination Feels Like Poison Cd were distributed by World Serpent Distribution. The release date was October 21st, 1998.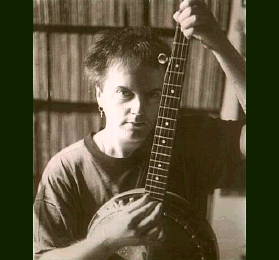 From A-Scale's flyer announcing this release:
"1998 sees the first full issue of the latest Martyn Bates Cd, originally released mid-1997 to accompany the similarly titled book of lyrics. Comprising new interpretations of songs extant 1982-1995 hitherto unheard, Imagination Feels Like Poison is primarily a collection of songs (occasionally threaded through with fleeting "illustrative atmospheric" sketches); a music brightly bittersweet, conjuring up ghostly and vivid invocations of folk/psych.
Voice and, perhaps surprisingly, Banjo (an unusual choice for Martyn Bates), are the principal instruments that carry this music, a skeletal, simplistic music, deftly coloured and fleshed out by inventive use of Autoharp, Percussion, Whistles and Pump Organ.
Constituting totally solo recordings (co-produced and engineered by Eyeless In Gaza's Peter Becker), this collection bears the distinct air of the highly personal/autobiographical, with dedications and references to the authors family. Luxuriously melodic, easily side-stepping lazy characterisations of genre, the album extends and elaborates upon Martyn Bates' previously explored musical endeavours … quiet fire; filigree and mercurial, silvery images."


Imagination Feels Like Poison Cd + book
(Updated January 24th 2000)
The last few copies of the Cd+book was (Jan 2000) available directly from World Serpent Distribution for about £16 + shipping. The re-release edition is now available from A-Scale (see above).
The Imagination Feels Like Poison Cd together with the lyric book (described below). I can tell you that the long wait for this album to be released will be paid back in full by the poisonous beauty of this great work of art. This might be Martyn's best album ever, even if I still think 'Mystery Seas' (sadly out of stock at the distributor temporarily) is the best album ever released on this planet. I write something more about it later on – it features some unbelievably wonderful banjo playing and singing and more … . [Later, July 18th] … the album begins with Martyn playing banjo that makes you thinking of days walking in hot summer twilight evenings and then it develops into a beautiful and full-flowering song. This is followed by the interesting 'I Can't Look for You' – beautifully introspective and almost hypnotizing (I only wonder a bit about the slightly off drumbeats in the background), then there comes three more nice songs ('I Forget You' almost sounds as if it was done some years ago…) after which there comes a sudden shift in the direction of the album – it becomes even more atmospheric with some great short instrumental pieces … 'Full Sail' lands you out on the great oceans without no idea of when and if you will reach shore again, but you don't care cause it's so beautiful and hospitable out there … suddenly the moonlight night comes in over you 'Fully Bright' and the seas seems to be getting more "mysterious" … suddenly you dream back to vivid days with 'This Wayward Love' where Martyn winds up the tempo so much that the banjo almost can't follow it … and then you get struck by memories of love in my favorite song on the album 'Fantaccini Playground' … whereafter you almost get totally lost in your dreams in 'Letters to a Scattered Family', but you happily awake with some 'Silvery Images' and listens with wonder to the text to 'No-One Spoke' and then you gets filled with wonder of how 'The Mountain Tomb' could be THAT atmospheric despite sounding like a Spanish guitar song basically. Then you think this album is really such a beautiful secret that you ought to keep it to yourself – but I can't help telling you.
It was limited to 500 copies and has been released separately now. (The book is exactly like the first edition – "only the 'stickers' with betray this editions origin" – according to Martyn.)
The Cd comprises the songs from the book that haven't made it onto record so far. The songs are: Mock Sun #1/I Can't Look for You/Bones of Your Face/Years of Salt/I Forget You/The God on the Tree*/Full Sail/Flanaghan*/Fully Bright/Mystery Seas/This Wayward Love/Fantaccini Playground/Ellen Massey*/Letters to a Scattered Family/Silvery Images*/No-One Spoke/The Mountain Tomb (poem by W.B. Yeats). (* – instrumental tracks)

Imagination Feels Like Poison book only release (now deleted)
The book is no longer available from Ambivalent Scale!
The book comprises much of the solo lyrics between 1982-1995 in about 110 pages. Here's the content of book. Here's the press release for the book:
Imagination Feels Like Poison – Selected solo lyrics 1982 - 1995 by Martyn Bates.
Martyn Bates – the man behind the just resurrected Eyeless In Gaza: a six year (1980-1986) generous, dense musical odyssey with fundamental companion and multi-instrumentalist Peter Becker… a highly emotional crusade ranging from D.I.Y. taut, fierce experimentation to poignant, evocative melancholic ambiences imbued with an innate fondness for melody and a constant underlying spiritual charge…
…The man also with a vivid, prolific, uninterrupted solo career injecting gradual newness in his avant-forms of revivified folk …a wonderful understated obstinacy and obsessive meticulous quest
…a ceaseless shaping of an entire matchless and personal course …a yet deeper incision extracting fragments of a human nebula – each fragment strangely reverberating within ourselves in an endless play of reflections.
Martyn Bates: an original stunning soul-voice, pushing through, cracking, always nascent, ready to rush into the wide open fields of life…
Now, outside the music, it feels about time to shed some different and attentive light on his work, an intimate examination of his chiselled haunted writings, which should give him some sort of rewarded entry into the literary niches, offering further contexts of expression as well as sketching out other possible tangents…
This book compiles a series of richly metaphorical pieces from 1982 to 1995. They all share a fathoming climate, walking through the unstable bridges of memory, capturing a suspended permanence. Fed on a sixth sense/third eye, an underlying ambivalence, they pass beyond simple appearances, dismantling illusions and preconceptions. These works are definitely not just lyrics, but transcended prose in touch with some global un/consciousness capable of stirring you to interaction… Cherish!
– Daniel Crokaert
Imagination Feels Like Poison contains a full discography and many photographs by Elizabeth S.
Publication: February 1997. ISBN: 1 900152 04 5. UK bookshop distribution by Password (Books) Ltd., 23 New Mount Street, Manchester M4 4DE. Published by Stride Publications, 11 Sylvan Road, Exeter, Devon EX4 6EW.
(July 18th 1997) There have appeared at least two reviews of the book in "literary occasional periodicals" that you now can read here: the first appeared in Zene (May 11th, 1997) by KV Bailey; the second appeared in PQR (Spring, 1997).
My Kind of Angel book
(Updated August 2nd 1998)
Martyn Bates has contributed a short piece to a book – My Kind of Angel – (edited by Rupert Loydell) that is written to the memory of William Burroughs. It was out in May. It includes 5 interviews with Burroughs from 1975-1991; some pages of unpublished Burroughs material; 5 essays on Burroughs; poetry etc. in tribute to Burroughs. The book has the same publisher as Martyn's solo lyrics book Imagination Feels Like Poison – Stride. The price is £8 (not available through A-Scale).
(May 2nd 1997) Out now! Martyn Bates has contributed a track 'Bahnhofstraße' (a setting of a poem by James Joyce) to the World Serpent compilation album (2 Cds low-priced) 'Terra Serpentes'. Eyeless In Gaza's contribution was cut out due to space-limitations… :-(.
(February 13th 1997) Here's a new very good interview with Martyn Bates: Interview with Martyn Bates for the french magazine Omega. The interview was done in 1995, but published in the autumn of 1996. The text has been translated from french to english by Yves Ludwig – thank you!
Eyeless In Gaza could and should continue forever as long as Peter Becker an I both continue to enjoy our unique connection – it feels like it should last forever, this special link; 'I dreamed I saw you, walking, walking in the world … .'
VPRO R5 'De Avohaen' – "Special – Martyn Bates"
Martyn Bates presents his song settings of James Joyce's full cycle of poems Chamber Music (see the biography for more info about this) and also his collaboration with Mick Harris on "Murder Ballads". I list what appeared in the program and Martyn's comments (though not the comments by the program's host). The program was aired on the Dutch radio on April 25th, 1996. You can listen to two short audio-clips from that session at the main page.
(Update April 16th 1997) Simon Fisher Turner and the Schwarma Cd
Out now! Schwarma started life as an album to which Martyn contributed vocals to three tracks, including a version of the Gaelic folk tune 'Twa Corbies'. The album was released by Mute Records in September 1996. A review has already appeared in Wire. In the November, 1996 issue of the Wire Simon Turner is on on the front cover and there's an article about his work and the album.
On July 31st (1997), Anne Clark is headlining an "Acoustic Night" at the 'Strange Noise' festival in the Black Forest, Trössingen, Germany. It'll be Anne, Martyn Bates on guitars, voice, whistles, etc., etc., Andy Nice on cello, Chris Elliot on a grand piano. They will be headlining the evening and the gig will be televised "live". They will be playing a mixture of familiar Anne Clark acoustic songs and they will also be previewing quite a lot of the Rilke songs that Martyn has set for Anne's reading of the poems of this legendary character.

Letters Written/Return of the Quiet Cd
Cherry Red records have re-released Martyn Bates' Letters Written and Return of the Quiet on a low-priced Cd. This Cd was out on October 10th, 1996. This is really good news for those of you who haven't had a chance to find the (for a long time) rather rare Letters Written 10" (and it might be Martyn's best work to date too).
Unknown Public, the renown "creative music quarterly" has featured a one minute excerpt from a track off Chamber Music Vol. 1 as part of their 'Scratchpad' feature (where all the tracks used are 1 minute or less in length). An excerpt from 'From Dewey Dreams' is used for this edition of the magazine (No. 7). This issue was out in May. (Eyeless In Gaza were also featured in volume 2 of Unknown Public.)
'Death of Polly' from Murder Ballads (Drift) was selected for a the double-Cd compilation Crooning on Venus – out now. The project was led by David Toop, who told Martyn that Murder Ballads were the instigator of this project. It is a rather "wild" project considering the artists that have tracks on this compilation: Tom Waits, David Bowie, Björk, Cocteau Twins, Japan, Sun Ra, Captain Beefheart, The Beach Boys, Ryuichi Sakamoto, Burundi Singing, Portishead, Van Dyke Parks, Nico, Julie Cruise, Tenko, etc., etc.