Peter Becker
Peter Becker of Eyeless In Gaza has done some solo works, some of which are documented here. Any news, etc. pertaining to Peter Becker's solo works will be published here too.
---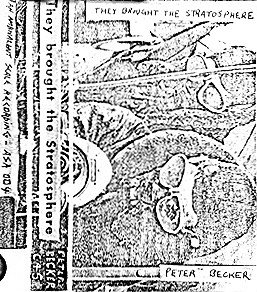 They Brought the Stratosphere (ASR 004, 1980, C45)
Tracks: Daydream/Aborigine Spirit Dance/Radioactive Wasteland/Arabesque/My Daughter/Theme for the Italian Tourist Board/Canine Interruption/An Evening at Home/Spider Noise – Ant Noise/Car Chase/The Uncontrollable Bubble Machine/Whale Songs/Music for Nurses; Days – Music for Nurses; Nights/A Pop Record/Nuneaton/Elucidation of Hands/Zawinul Surf/Slowmotion Glide/Flight/Pointless Arguement/Choice of Direction/Parkers Walkabout/Music for Playgrounds/Riot in Cell Block No. 9/Fear Poem/Vague Interview
Recorded in bits: 1979/80. Final trim: July 1980.
The Cast of Thousands: Steve Parker: Voice on 'Choice of Direction'; Drug guitar on 'Parkers Walkabout' and 'Pointless Arguement'. Bron Area: Music on 'Canine Interruption'. Liongob Batesy: Stylo on 'Arabesque' and 'Playgrounds'. Helen Ingham: 'Fear Poem'. Mark Almond: Vague loop. Phil Clarke: Drum M/C. 'Fear Poem' + 'Riot in Cell Block No. 9', recorded 1977 at N.N.W.C.T.A.
"Description": (from cassette cover) 45 minutes of Cross-Collage of Sound, Rythm and Atmosphere. Using the wasp synthesiser, the tapes, the melodica, the piano, the violin, the e. guitar, the stylophone, the autoharp and the percussive. Recording on the 2-track reel-to-reel between mid 1979 and mid 1980. Most overdubbings were recorded without facility to monitor the original track, which usually done months later introduced a random element. The experimental here is open to personal interpretation. Inspect and dissect.
---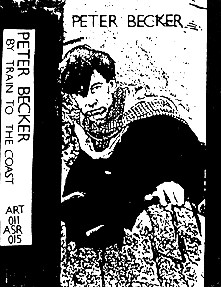 By Train to the Coast (ASR 015, 1981, C45)
Tracks: By Train to the Coast/Ukrainian Lovers/Ukrainian Church/Crystalline – A/Last Exit/Drum Avant 7/Arabesque 2/For Zo – For Mo/Faces in the Dark/Coast Cut – Up/Rituals/Forch Funk/Eyes Blink (disco)/Subterfuge/During Half Sleep/Transatlantic Flight/Veil (Becker Style)/Artbit/Scar City/Eyes Blink (Version)/Return Journey/Three Nights
---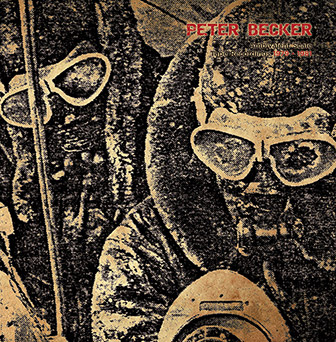 Peter Becker: Ambivalent Scale; Tape Recordings 1979-82 Lp released on June 15th 2013
Ambivalent Scale; Tape Recordings 1979-82 (VOD 155.3/ASR 047) is a great re-release of material from the long deleted and much sought after two solo cassettes by Peter Becker from the early era of Eyeless In Gaza. While Martyn Bates (the other half of Eyeless In Gaza) continued to produce new solo releases, Peter Becker never released any further solo recordings after By Train To the Coast C45 was released on Ambivalent Scale Recordings in 1981. The old tapes have been sold for huge amounts on Ebay and a reissue was in demand. This collection of the essential pieces from this period are now released on Lp by VOD Records and available for order right now. (€15.99 + shipping)
There are four tracks listed on this release that I am not aware they have been released before: We Can't Break the Spell; Loneliness Disco; Winter Glide; and Distance – these are taken from cassettes sent as gifts to people back in this period. The full track-list is: Drum Avant 7/Music for Playgrounds/Faces in the Dark/Eyes Blink (Disco Mix)/Music for the Italian Tourist Board/Forch Funk/Veil (PB Version)/Eyes Blink (Version)/Spider Noise-Ant Noise/By Train to the Coast/Arabesque/Ukrainian Stained Glass/Voyage Across/We Can't Break the Spell/Aborigine Spirit Dance/Loneliness Disco/Ukrainian Church/Winter Glide/Transatlantic Flight/Distance.
This looks like a very good selection! It includes a piece also released by Eyeless In Gaza – Music for Playgrounds. Also, Veil (PB Style) is a version of the well-known Eyeless In Gaza song Veil Like Calm (the video of which has been watched on YouTube by over 66,000 people as of writing). It should be of interest to Eyeless In Gaza fans to see glimpses into early ideas behind Eyeless In Gaza songs, but it is also a great example of the Indie/DIY culture of the early 80's.
---
Compilations
Sunset Gun Audiozine (?, 1981?, Cassette)
Tunisia
The Wonderful World of Glass (Glass 010, 1981, Lp)
During Half Sleep
Outgoing Message (answerphone messages!) (Staalplaat, late 1996, Cd)
---
Reviews
Martyn Bates 'Unsung' & Peter Becker 'Ambivalent Scale Tape Recordings 1979-1981? –album reviews by Deadhead (Louder Than War, September 25, 2013)
These two releases are so very very different, but if you have known and loved Eyeless In Gaza for what seems like the beginning of time then you will know they form the same gold coin. Since they linked as a musical coupling in 1980 the two have forged on experimenting with electronic sounds, forceful pop-tones, delicate folk and caustic poetic vocals. For many the voice of Martyn Bates always seemed to be the driving force of EIG. With one breath or sigh he can melt or eat your heart depending on the mood, often seemingly unaware of the musical construction behind. The man quite simply has one of the most unique voices around. Early releases allow the its extreme edginess to shine but later as here on his latest solo it is simple and beautiful. BUT, let's not forget the unsung element that is Pete Becker as through the band's releases and those early, very rare – often mail-swap experiments with sound and soundtrack manipulation – he produces a sublime textural backdrop which does stand in its own right as shown on this vinyl set. Though pretty sure his 'singing' will raise some eyebrows, but more on that later!
So, where to start? Vinyl and CD releases, real music with real packaging, an effort has been made on both counts and I for one appreciate that fact more than anything these days. Old school first though, has to be! Pete's album is a nicely presented item as you would expect from Vinyl On Demand with the label's usual quality pressing. On first listening realisation hits that it is a collection of unrelated material… Remnants of a forgotten time, a "mixed bag… none of it ever meant to be released" as Pete put it to me but after repeated hearings and a full immersion this record becomes an important document to the being of the band. Somehow Eyeless In Gaza were always on the fringes, a little too song-oriented perhaps to fully fit into the leftfield, post-industrial, yet too left of the field to reach the masses (though 'Welcome Now' almost broke through the daytime ranks and in truth should have just like many more of their vast catalogue of songs) and this album explores the creativity of their sound at its source, both in the esoteric and more commercial structural senses, albeit made with the basic equipment available at the early stages of their career. But, as with all the good artists of the time it's the intelligence of the creator that shines through. There are cutting-edge real-time vintage lo-fi and electro-pop movements, knarly deep-down electro-acoustics which immediately make me reach for another evening of early Cabs headphone listening and more than enough visual soundtracks to fill any creative filmmaker with inspiration. 'Arabesque' even reminds me of Pink Industry and the guitar-work of 'Transatlantic Flight' could be shimmering all over an Eighties 4AD release, let's say Dif Juz maybe? Though the accompanying glitchy computer noise moves the track into an altogether different area, well before its time. Traces lead to memories of EIG tracks not heard for sometime, but soon to be reconciled. My one and only complaint is the 'singing', thankfully only included on a minimal number of songs. Tongue-in-cheek Bowie-isms, are not really part of your bag Pete, so glad any pretensions were left well behind the early Eighties!
Which leads perfectly to THE voice. A voice lifting me through many ups and downs since that time. On one of the many forays into a Record & Tape Exchange basement of wonder, i.e. vinyl pick'n'mix, a paper-sleeved 10" white label with a Cherry Red catalogue number etched in the run-outs leapt into inquisitive hands. I think it was early 1983. That record was Martyn Bates' first solo album Letters Written with its cacophony of minimalist synth backing and a voice spitting venom and petals. It's a record I run to still to this day when I very often simply need to leave this place and journey into mesmeric tones. It makes me gloriously unhappy (very me), moist eyes all the way through. After, there is a positive, calming effect like no other. It's been three decades since the release of Letters Written but I personally think Unsung is its closest neighbour. Musically, not a world away although electronics are replaced with acoustic guitar but there is an air of openness which allows the great man's voice to carry through far more than many of EIG's recent (over the past couple of decades!) releases. As much as I adore EIG I do think their sound works best when less is more, and this album definitely fills the air with more! Mellowed, Martyn softly weaves through plucked strings and occasional effects all carefully co-produced with Alan Trench who he also records with as Twelve Thousand Days. Its ten tracks offer pristine perfection as a collection of songs, each stunningly beautiful in their own carriage of words and voice. 'Muted Music' is perhaps its defining lose yourself moment but in reality the album is one whole lottery-winning escape of treasure. It is so remarkable to me that Martyn, as the title here might suggest, remains 'unsung' to a wider audience. His music should appeal to the thinking mainstream and the minority who prefer to live under the counter. Put crudely he deserves to be heard.
Embrace Unsung, wander through the playful compositions of Ambivalent Scale Tape Recordings and enhance your existence with the entire back catalogue of Eyeless in Gaza. Your life will be richer, heart lifted and body cleansed of everyday existence. Sweet addiction will soon take hold but fear not Martyn and Pete will be waiting to feed you more.