Peter Becker
Peter Becker of Eyeless In Gaza has done some solo works, some of which are documented here. Any news, etc. pertaining to Peter Becker's solo works will be published here too.
---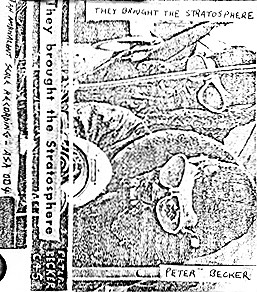 They Brought the Stratosphere (ASR 004, 1980, C45)
Tracks: Daydream/Aborigine Spirit Dance/Radioactive Wasteland/Arabesque/My Daughter/Theme for the Italian Tourist Board/Canine Interruption/An Evening at Home/Spider Noise – Ant Noise/Car Chase/The Uncontrollable Bubble Machine/Whale Songs/Music for Nurses; Days – Music for Nurses; Nights/A Pop Record/Nuneaton/Elucidation of Hands/Zawinul Surf/Slowmotion Glide/Flight/Pointless Arguement/Choice of Direction/Parkers Walkabout/Music for Playgrounds/Riot in Cell Block No. 9/Fear Poem/Vague Interview
Recorded in bits: 1979/80. Final trim: July 1980.
The Cast of Thousands: Steve Parker: Voice on 'Choice of Direction'; Drug guitar on 'Parkers Walkabout' and 'Pointless Arguement'. Bron Area: Music on 'Canine Interruption'. Liongob Batesy: Stylo on 'Arabesque' and 'Playgrounds'. Helen Ingham: 'Fear Poem'. Mark Almond: Vague loop. Phil Clarke: Drum M/C. 'Fear Poem' + 'Riot in Cell Block No. 9', recorded 1977 at N.N.W.C.T.A.
"Description": (from cassette cover) 45 minutes of Cross-Collage of Sound, Rythm and Atmosphere. Using the wasp synthesiser, the tapes, the melodica, the piano, the violin, the e. guitar, the stylophone, the autoharp and the percussive. Recording on the 2-track reel-to-reel between mid 1979 and mid 1980. Most overdubbings were recorded without facility to monitor the original track, which usually done months later introduced a random element. The experimental here is open to personal interpretation. Inspect and dissect.
---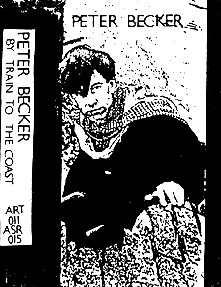 By Train to the Coast (ASR 015, 1981, C45)
Tracks: By Train to the Coast/Ukrainian Lovers/Ukrainian Church/Crystalline – A/Last Exit/Drum Avant 7/Arabesque 2/For Zo – For Mo/Faces in the Dark/Coast Cut – Up/Rituals/Forch Funk/Eyes Blink (disco)/Subterfuge/During Half Sleep/Transatlantic Flight/Veil (Becker Style)/Artbit/Scar City/Eyes Blink (Version)/Return Journey/Three Nights
---
Compilations
Sunset Gun Audiozine (?, 1981?, Cassette)
Tunisia
The Wonderful World of Glass (Glass 010, 1981, Lp)
During Half Sleep
---
News
Peter Becker have a track ("very funky" according to Martyn) on a Staalplaat Cd Outgoing Message (answerphone messages!). The Cd was released by Staalplaat in late 1996.