In Embrace – part one
Gary & Cameron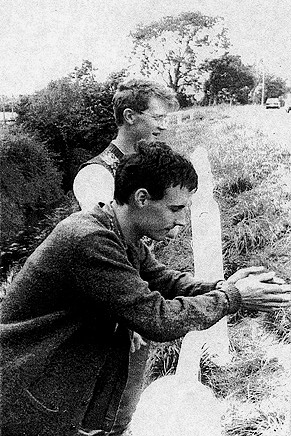 Gary Knight told me a few things that might be of interest to you, dear visitor:
"I first met Martyn, Pete and Liz back in 1980 when I was producing my own fanzine 0533 (the Leicestershire dialling code). It started life a Leicester-based publication. Until I discovered the likes of Eyeless In Gaza and Bron Area). I saw them perform many times over the next few years.

IE first played in late '81 in Birmingham – that, of course, was myself and Cameron. We only played together about 5 times (once supporting EIG). Our nerves always betrayed us. Me and Cameron went our separate ways.

I then played a few solo dates. Then recruited Richard Formby (then of Religious Overdose) and started to behave like a real band. (Richard has since gone on to play with Sonic Boom in Spectrum. Check out his pic on the sleeve of their first album.) A fellow Young Marble Giants fan, Steve Rees, joined on bass and we had my next-door neighbour, Joby Palmer, on drums. (Joby […] played many times with EIG around the time of Back to the Rains and features on some of their recordings from this time.)

Pete played several times with us during 1986. The line-up then was me on vocals, Clive Dove on guitar, Joby Palmer on drums, Amanda Lydon on backing vocals and Pete on keyboards, bass, tambourine and crazy ponytail! He also played on and produced the 3 other tracks on the What's got into me? 12 inch, produced 'Red blue eyes' and 'My worst behaviour' and, as I said, played bass, keyboards and more on all the Songs about Snogging tracks.

IE played about 50 times in total. I reckon about a dozen of those with EIG. (Our 2 biggest shows were supporting The Housemartins at Coventry Lancester Poly, supporting The Style Council at Coventry Apollo and supporting Carmel at Coventry Belgrade Theatre. The last two were with Pete.)

IE died when Dave Barker couldn't pay John Rivers for the Songs About Snogging sessions. It was heartbreaking to have our friends squabbling in court. Not to mention having our finest moment left on a shelf for years that turned into forever. I haven't set foot onstage since I sang 3 songs unaccompanied as a last-minute support to EIG in Reus in Spain back in 1987. That was also the last performance EIG did together until their recent reunion. Eyeless were the reason I ever started In Embrace so it seemed fitting that we ended with them."
Martyn Bates comments shortly on In Embrace:
"In Embrace were a raw, tiny, precious, open, crystalline – delicate thing … some gorgeous moments! Favorites have to be Too, Initial Caress, Passionfruit (I like Cameron Lindo's voice/stuff) – Gary Knight is a unique talent … – An overlooked thing, In Embrace … ."
---
Discography

The Initial Caress (Glass 019, 1982, Ep 12")
Clutching/The Air Inbetween/Precious/Breathless with Passion Explicit/For Lovers
Cameron Lindo and Gary Knight
---

Passionfruit Pastels (Glalp 001, 1982, Lp)
Half Awake (Mountains)/Our Star Drawn Through Panes/We Fail Eachother/The Ball Rolling/Tears Turn Fresh/Sun Brings Smiles/At East/(Sigh!)/Tickling the Ivories/To Friends (an Open Letter)/Caroline Beginning
Gary Knight, Cameron Lindo with Joby Palmer, Claire Johnson [who designed many In Embrace sleeves but also other Glass rec. sleeves like the one to Bron Area's Lp The Trees and the Villages] and Caroline Wheeler (in spirit). Produced by In Embrace and John Rivers.
---


Sun Brings Smiles (Glass 024, 1982, 7")
Sun Brings Smiles/Play in Light/Sun Brings Smiles (Sweetamix)
---
Compilations
Sensationnel No. 2 (Illusion Production IP 015, 1983, Cassette)
Blue Beach
---
Page updated June 27th, 2009
For comments, suggestions and other questions, send an e-mail to me: .