News
2015-05-23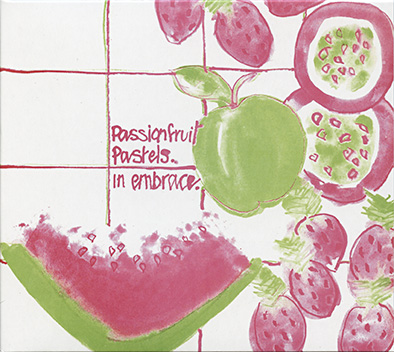 First album by In Embrace finally re-released in CD format at last and the first one in a series on the re-awakened cult label Glass Records (calling themselves Glass Redux now)! Passionfruit Pastels is all remastered and accompanied by comments by Gary and some notes by Cameron in a nice booklet. Furthermore the first 7" – Sun Brings Smiles is added to the CD as well as a demo version of Half Awake.

The great remastering has been carried out by none other than the legendary John A. Rivers who also mastered the album the first time around in 1982. Passionfruit Pastels was the first album recorded specifically for release on Glass Records.

Mail Order is AVAILABLE NOW for £9.99 (plus p&p) from Adasam.

Follow Glass Redux on Facebook and Twitter. There are suggestions in the booklet that a follow-up CD with In Embrace is set to be released by Glass as well, so stay tuned!

♦ ♦ ♦ ♦ ♦ ♦ ♦ ♦ ♦ ♦ ♦ ♦ ♦

2003-05-19

On May 19th Cherry Red Records are releasing a CD with five In Embrace tracks on it. A Fine Day … and a Brilliant Evening features tracks by Jane & Barton, Grab Grab The Haddock and In Embrace. Amazon UK has it listed.